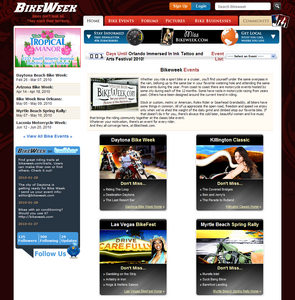 Some say Bike Week is about bikes, babes and booze. I think it is about revenue, bottom line and earnings. It may not have the same ring to it but in today's market we are all about the ring of the cash register anyway. BikeWeek.com is this month's featured website because spring time brings bikes. While BikeWeek.com does cover the big three 'B's' that it has become associated with it also covers where to stay, what to do and where to be. With over 85,000 unique visitors a month, this site is HOT.
Drum roll please….the all new BikeWeek.com has been launched just in time for Bike Week Daytona. Site visitors have access to printable coupons (could coupons on the phone be coming soon?), listings of national and local businesses, news stories from across the bike world, forums and a vibrant biker community.
And oh yeah - pictures. We have thousands of pics from past bike events all over the US. If you have a story or a press release about Bike Week we would love to receive it. Email editor@bikeweek.com. Interested in advertising on BikeWeek.com?We would love to talk to you about the incredible affordable options. Email advertising@bikeweek.com for a media kit with options and rates.