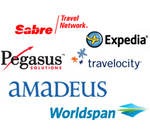 In-case you didn't know, Alternate Image has an interface into the well known Global Distribution Systems also known as GDS. We've made it easy for you to manage your rates and inventory for your online booking engine as well as your GDS through one point of management. We can give you the exposure you need to increase your bookings and be more visible right next to your competition.
GDS currently encompasses all leading hotel and travel companies to include Sabre, Galileo, Pegasus, Worldspan, Amadeus, as well as online hubs, such as Orbitz, Expedia, Travelocity, Hotwire, Priceline and much more. If your hotel is not currently on GDS, we can help. Our existing system works hand-in-hand with the GDS interface with no additional data entry or third party access. Room descriptions and pictures, discounts, rates and inventory all coincide with the GDS channels automatically for your convenience. Our rates are very competitive to include one-time setup, flat fees with no percentages, quick activation, and free full time support and training.
While the demand for direct electronic access to hotel websites is growing exponentially no hotel company can afford to ignore this explosive growth of online hotel internet reservation bookings. Nearly 300 million active Internet users have already purchased travel online. Online travel bookings have exceeded $100 billion since 2005. GDS on average produces up to 30% of all hotel bookings. The biggest advantage for any hotel is having the largest online exposure to the online markets through GDS where millions of buyers and sellers work together to exchange travel services. If you would like more information on how your hotel can benefit from GDS, please call us today at

386-760-1774

.