What's New with your Open Hotel Booking Engine?
New Dashboard
The New Dashboard allows you quickly view or add new rates, extras, and wholesalers. This also has as link to view reservations and displays your daily arrivals and the amount of reservations placed through the website for that day.


Have a question?
The green "Instructions" button will expand to show you help articles and video tutorials.
Your dashboard will also display your recent reservations and arrivals.

Underneath will display the new availability calendar. This new calendar will display your rooms down the left hand side with this month's dates from left to right. A number will display so that you can quickly view the amount of rooms you have available for each room type on a specific date. Red means unavailable, yellow means limited availability, and green means completely available.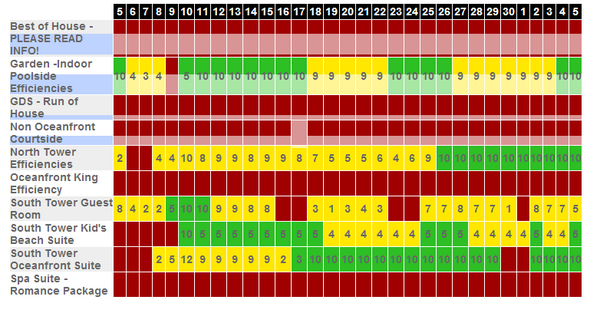 New Rates & Inventory Page
The new rates page has all the same information as the current version, except it will be displaying differently. To shorten the page and eliminate excess scrolling, your discounts, descriptions and policies are on separate tabs within your "Add New Rate Period" page. The info is the same but will be displaying in the new layout, which can be seen below.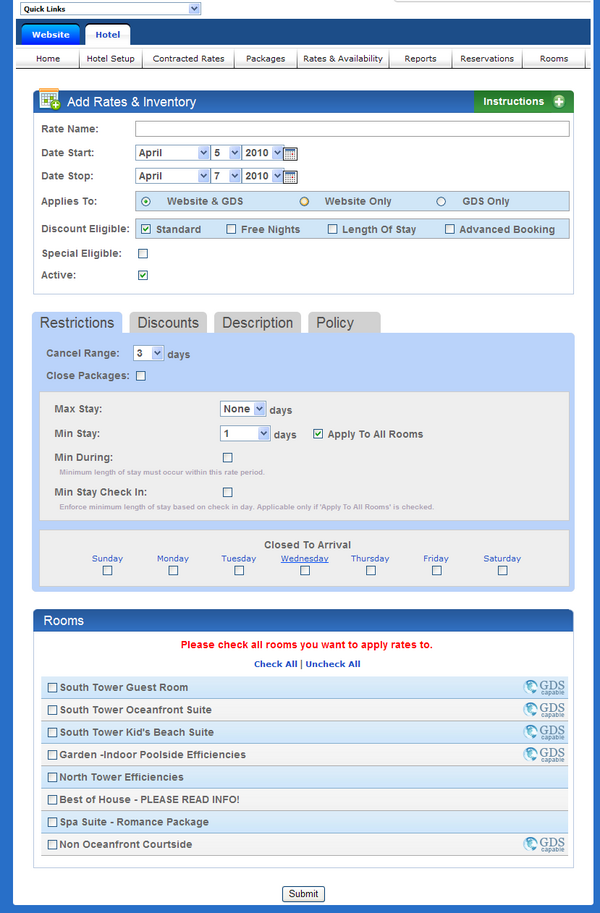 New Reservations Details Pages

Your new reservations details page will show any customer comments and important notices at the top in a yellow box. If the customer cancels a reservation or adds comments this will appear at the top. At the top right hand corner there is the option to print a long or short version of this reservation. The short version will not include credit card information, the long version will.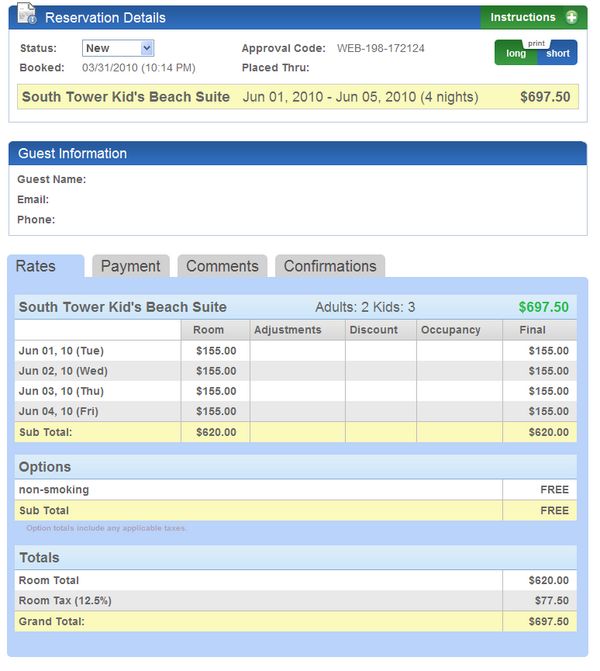 New Wholesaler & Wholesaler Rates Pages

The new wholesaler form has the same exact information but as with the other changes, it is now displayed in tabs. The wholesaler rates page is similar to the new rates and inventory page shown above. Tabs are used to fit all the information on the page. Nothing has been changed that will affect the functionality of the Wholesaler feature.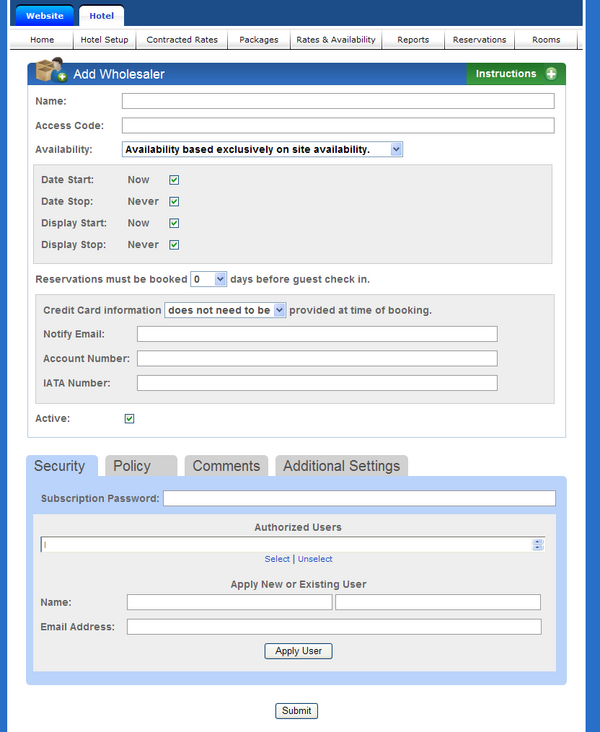 New Rates Overview Page

The rates overview page is now easier to read so you can quickly scan through to see which rate periods are active for each day, and your inventory and rates for each room. This new format will allow for our future features which will include the ability to quickly add extra room inventory for specific rooms and days without creating a new rate period. This will all be done from the rates overview page. At this time, the only changes you will see are visual.
New Rooms Page

To create new room types, your rooms page has been altered to display your room
description, pictures, and policy settings across the page in tabs. Below, you can apply your discounts, applicable amenities and room options by selecting the options that apply. Once selected these options will turn blue. This layout provides an easier way to quickly see all features applied to this room type.
*

Note that the GDS portal tab will not be visible and is for Alternate Image admin staff.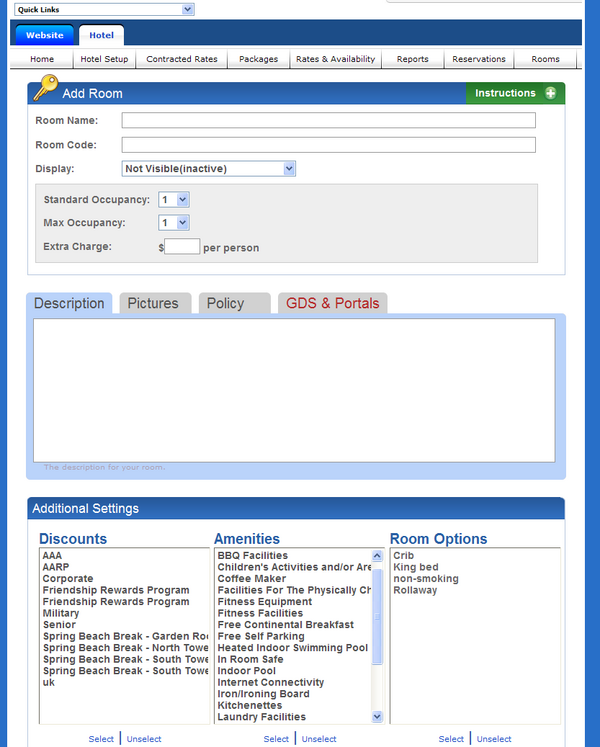 New Discounts Page

The new discounts page has tabs going across the page where you will enter in your restrictions, rooms that the discount will apply to, your discount description, and policy. This form is much shorter then current version and will eliminate excess scrolling. None of your discount information has been modified, just a new look.

*

Note that the GDS portal tab will not be visible and is for Alternate Image admin staff.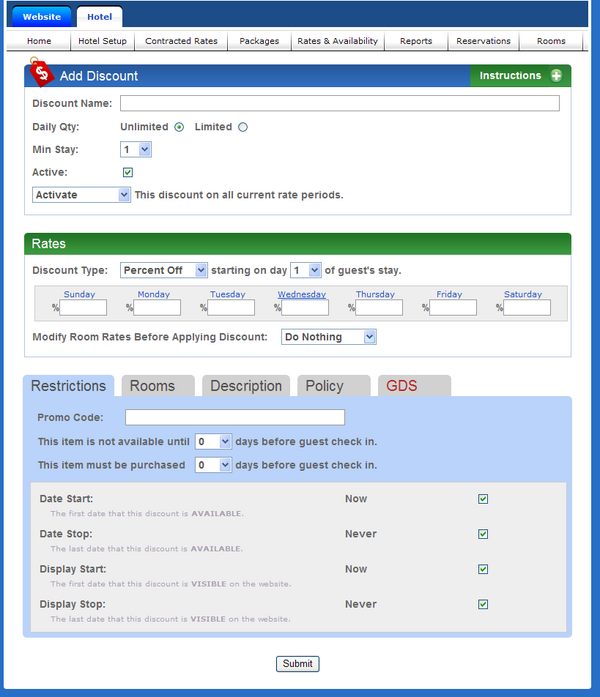 New Quick Close Page

The new quick close page works just as before, simply add your Quick Close name, where it applies to, the dates, and the rooms you wish to close.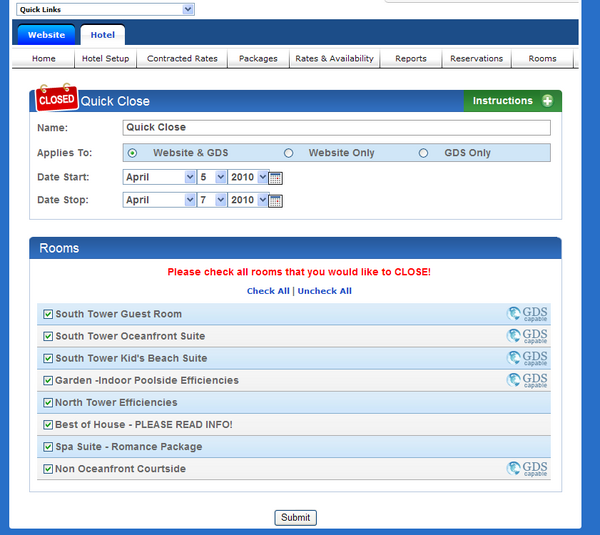 Have a Suggestion?

Tell us what you want to see happen in our
Forum.
We appreciate your business and look forward to showing you the new changes in our highly anticipated Open Hotel Software upgrade. If you have any questions about these visual enhancements you may join our webinar training on Wednesday, April 7th at 2pm.
We recommend having your staff and management attend this short webinar.
Register Here for the Open Hotel Webinar