Alternate Image is excited to put the new content management system live on ALL admin areas of your website. The next step will be to apply this new CMS to the client side of the website (this CMS is currently accessed by pressing ESC three times on your website pages). Please send us any feedback as we are working to improve this CMS system for our users.

What is different about this new CMS?

It has a sleek new look and feel, with added features, an HTML cleaner, and best of all it is compatible with Safari and Firefox! MAC users rejoice!
Take a minute to read more about these new features and how to use them.
Photo Gallery Features
Find Images Fast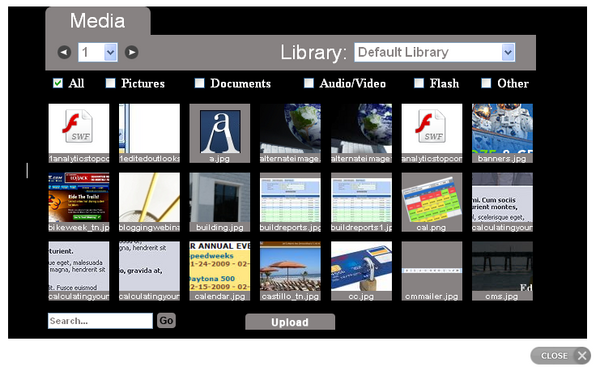 Type in your image name and click "Go" in the search box. Organize your files by pictures files, documents, or othery file types, and see thumbnails of your images. Click the page arrows to view the next page of images. A great idea is to organize your images into libraries. You can add a new library (click on the library drop down menu and select "Add Library") and keep your images organized by your specific library names.
Upload Multiple Images at a Time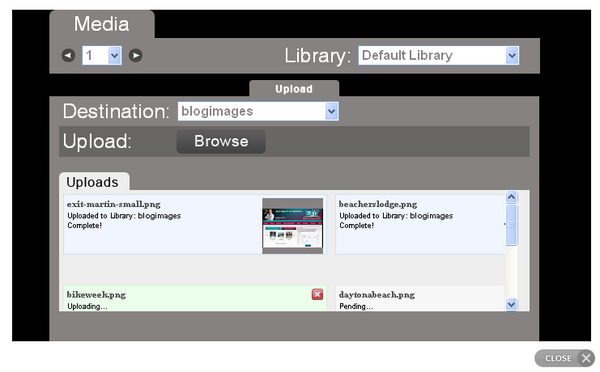 Just click Upload>Browse - and click all the images in the folder that you want to upload. Once the images are all uploaded, click on media to return to your media page. You may also upload large sized images! No more 200k file size limit. And yes - we are very excited about this.
Resize Photos Instantly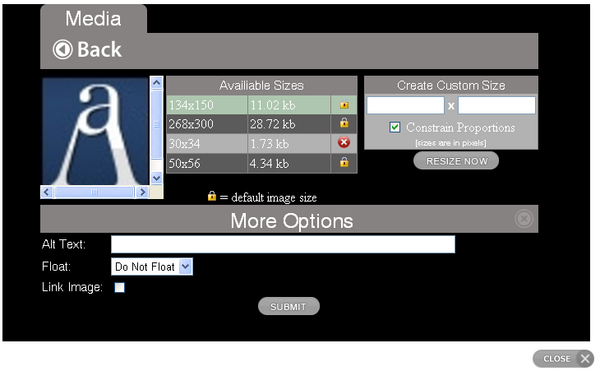 Select your photo thumbail, a new screen will appear. The photo gallery will automatically offer you three sizes for your image, small, medium and large. You even have the choice to make a custom size image in the area to the right. Click submit and your photo will be inserted into your content.
Add Image Alt Tags
Need some Google juice? Once way to help Google identify the images you have is to add an Alt -Tag. This is visible to the user (when you hover your mouse over the image, your alt-tag will appear) and will help score you some points with search engines. We always recommend adding alt-tags to your images. Our new photo gallery allows you to add your alt-tags when inserting your image. What are some great examples of alt-tags? If you are inserting a lifestyle photo and you are Daytona Beach hotel, name the image "Daytona Beach Vacations" or "Daytona Beach Oceanfront Hotel".
General Content Management Features
HTML Cleaner
Copying and pasting text from Word documents or other websites used to copy over a lot of messy HTML code, which can cause problems later on when you are trying to format your text. The new HTML cleaner will remove bad HTML code, clean up any messy code, and make your text overall easier to format.
How will this affect the way you use the content management system?
To format text you will have to use the formatting tool on the new content management system. Copying and pasting formatted text over from another document or website will paste the text but will not retain the original formatting. This keeps the HTML code cleaner and makes it much easier to re-formatt, insert more text and pictures, without causing some of the annoying "un-formatting" of your text associated with the old content management system. Give it a try and tell us what you think!
New Tool Bar for Editing & Formatting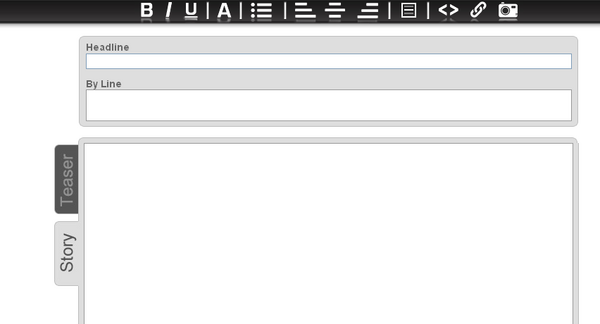 The new toolbar does everything the old one did, it just looks much nicer! You may notice a difference in the way you format colors and your fonts. The basic editing functions are always important. Anytime time you want to edit the font you will have to be sure to highlight the text. Once the text is highlighted click on the "A" viewer, which is now a combination of three options in one; the Color, Size, and Type of font. When choosing the color, click on the check box next to color and a color wheel will appear. There is a small cursor in the bottom left corner you drag into the color choice. You can also move the vertical cursor up and down. Once you have chosen the color click on the rainbow wheel at the bottom to activate and Submit. You can also Bold, Italic, or Underline in the "A" viewer, for one less step.
If you are in Firefox you can hightlight your text, then hold down "CNTRL" and highlight other text throughout your content and click the "A" to format it all at once. This is a great way to format your subheadings so that they all appear with the same color and style.
We hope you enjoy the new CMS and we look forward to applying this to the client side website pages very soon.
- Alternate Image Staff