Google has been making changes. Lots of changes.
And not just to how their regular search engine results show - you should notice that Google Maps listings are now ranking according to more than just location proximity and industry categories.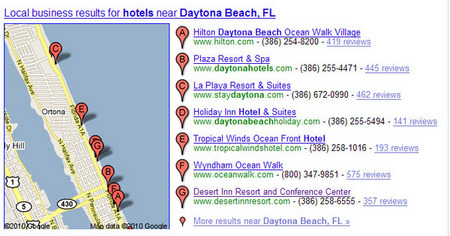 The Google ten pack is a very coveted place to be. Your listing is on the first page and appears above the normal (organic) listings. This works (almost) completely independent of your website Google ranking - businesses without a website can rank in Google Maps.
The ten pack (or five pack, or however many listings Google decides to display) used to be based on a few things like proximity and your industry categories. Now we are seeing that Google is paying attention to more than just that. As Google Maps gets crowded with more and more listings, they are paying less attention to what you tell them about your business and more attention to what others are saying.
So how can your Google Local Business Listing rank higher on Google Maps?
1. Verify your listing and make sure that your information is correct

. If there are two locations or phone numbers listed for one actual business, Google will discredit this. Only make one listing per business entity or per physical business location.
2. Increase your citations and inbound links from major data providers.
Google wants to see that your listing information matches other well known and trustworthy sources. They are no longer relying on just the business owner supplied information anymore. W
hat are the major data providers?
3. Add user reviews.

User reviews are now a necessity. These can be good and bad for your business. You have no control over what people write and a bad review can be read by everyone. Alternate Image has created handouts for you to customize and send out to your customers. Create a landing page on your website that has a direct link to your Google map listing (find yourself on Google Maps, click "more information" to see your listing. This is the link you will want people to click to write a review). Be sure to give this link out to your favorite customers who will write great things about you. DO NOT write a fake review, you should have at least two or three great customers who would be happy to do this for you. A higher volume of good reviews will help you rank higher on Google Maps.
4. Add proper category associations.

Make sure that you have used all 5 of the categories that Google offers. You have the ability to create your own categories if they do not have your industry listed. Make sure that the first category, your primary category, is the best suited for your business. Ex: Hotel, or Realtor. The secondary categories should include your key words and be general but with location specific qualifiers, ex: daytona beach hotel, daytona beach realtor.
5. Put your full business address on contact page.

Make sure your contact page information is up to date and correct. Alternate Image website clients: update your location address in your site settings - at the top right hand corner of the admin area. Google will check that your website contact page is consistent with your Google Maps listing information.
6. Increase your quality of inbound links.

This goes along with having your information submitted to major data providers. Having links from other high ranking websites to your website will increase Google's "trust" in your listing. Great examples would be your local Chamber website directory, the CVB websites like Daytona Beach or New Smyrna, and other major directory sites like Urbanspoon for restaurants and Merchant Circle for all types of businesses. BikeWeek.com also offers directory listings. Most good sites will require a fee for a directory listing, but some are free. This is a great advertising investment as we see a large portion of our Daytona hoteliers traffic come from the Daytona CVB website. Rearrange your marketing budget to allocate less to that Yellowpage ad and more on Internet advertising.
7. Have location keywords in anchor text for inbound links.

Make sure that all those high quality inbound links include actual keywords that are location specific. Instead of it saying "click here" to visit website, have it say "Visit the Daytona Beach Holiday Inn".
8. Include keywords in your listing description.

Your Google Maps description has to be short (they impose a character limit) but needs to include your keywords. Instead of writing "We are a great oceanfront hotel with a pool..." say something like "Great Daytona Beach oceanfront hotel with pool".
Negative factors affecting your ranking:
Using a 1-800 phone number.

Google wants to see local area codes that match your location address.
Having multiple addresses on the contact page.
Don't confuse Google.Have your contact page info be consistent with your Google Maps info.
Negative customer ratings on your reviews.
You can't remove these, but you can bury them with good reviews.
Multiple listings with the same business name.

If you are a franchise or have more than one location, identify it with a city, ex: Holiday Inn Daytona Beach instead of naming it Holiday Inn.
Multiple listings with the same address or phone number
Google is much more advanced than we will ever know. There is a reason they do not release their formula for ranking websites and Google Map listings: they are trying to prevent people from unfairly ranking. Alternate Image is always researching and testing the best ways to optimize websites for search engines because this is what we do. We provide this knowledge as a service to clients because if you do well, we do well.
Don't just be online, compete online.
Morgan Seedarnee
Internet Marketing Specialist,
Alternate Image
Daytona Beach Website Development
and
Search Engine Optimization Services