What is
Google Base
? Google Base is a way to add your real estate listings to Google, which in turn feeds that data to Google Maps, giving your real estate listings more exposure.
Google's merchant center
can be used to upload a variety of data, but Google Base has become a very interesting source for added exposure on real estate listings. This is a new feature but can prove to be very useful when searching for real estate listings through Google.
Your real estate listings will get even more exposure if they are on Google Maps, as this is one of the most widely used applications. Your client will also be pleased to see that when you type in their home address their real estate info appears on Google.

Below us an example of a Google Maps search for "Daytona Beach, fl". As you can see there is a box at the top that allows me to enter in my real estate information to further filter out the results. Below that are the resulting real estate listings with the listing price and a few sentences of information, and a link to the listing website. To the right are those listings displayed on a map.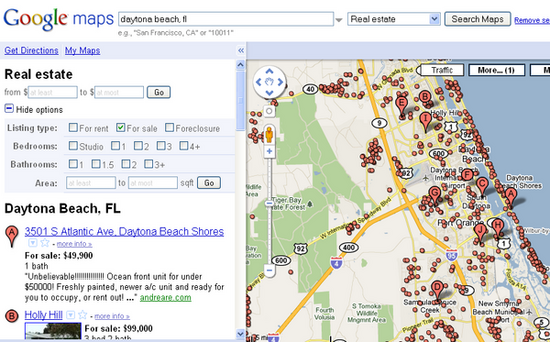 See Google's answers to commonly asked questions about using Google Base.
To upload your real estate listings:
You will want to upload your listings using a data feed. If you store your listing information in an excel sheet or some sort of program that can export it into excel, then this is how you would upload your listings. Make sure that the program you are using can easily update and export another excel sheet into Google Base as you will want to update your listing data frequently.
See instructions for data feed upload
You are required to have the following information for your listing:
Description, link, listing type, location, price, and title. Other fields are recommended but not required.
We recommend making a
tab-delimited data feed.
Start by going here and creating a Google account.
This is a new program by Google and we are excited to learn more about it as it becomes more popular and widely used within the general population. It is still in it's Beta testing phase but we think this is a great way to give added exposure to your real estate listings.

If you already have a website but would like a MLS feed, check out our sister site:
World RETS.com.

World RETS allows you to generate snippets of code to add to your website that will display your realtor listings, all of your MLS listings, Agent bios and listings, and more.

Let us know what you think!


Morgan Seedarnee
Internet Marketing Specialist,
Alternate Image
Daytona Beach Website Development
and
Search Engine Optimization Services