Facebook unveiled the new question tool on March 24th, which presents a great opportunity for businesses to survey Facebook users and get valuable feedback. This new update went live to more than 500 million Facebook users and can be used to get recommendations from your friends, see opinions of people in a poll, and share your own opinion on questions posted.
How to Use Facebook Questions
First, you must be logged into your account. You can use this to post a question to your personal profile, to ask things like "Where should I go eat?","Who has the best deal on ____?", and get instant recommendations from your friends. This is a great tool for seeing your friend's opinions and recommendations. It is also a good tool for seeing other peoples recommendations and opinions, as this can be helpful to your business.
To start, go to
www.facebook.com/questions
. You will see the following: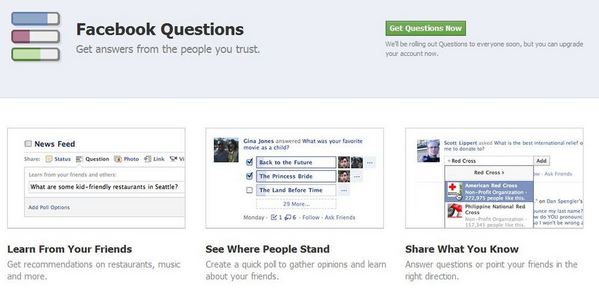 Make sure that you are logged in as your Facebook Fan Page, to do this, go directly to your fan page and click "Use (Your fan page name here) as my profile" on the right hand side. This will post the question to your business page and not your personal profile.


Click on the Get Questions Now button at the top right to get started. Type in the question you would like to ask, and then click to add your question's responses. The question will now appear in your News Feed, on your fan page, and in the questions feed for all of your friends. This is located on the left hand side and is much like the news feed feature, except that it displays only questions that have been asked or answered by your friends.

When I clicked on my Questions feed, this is what I saw: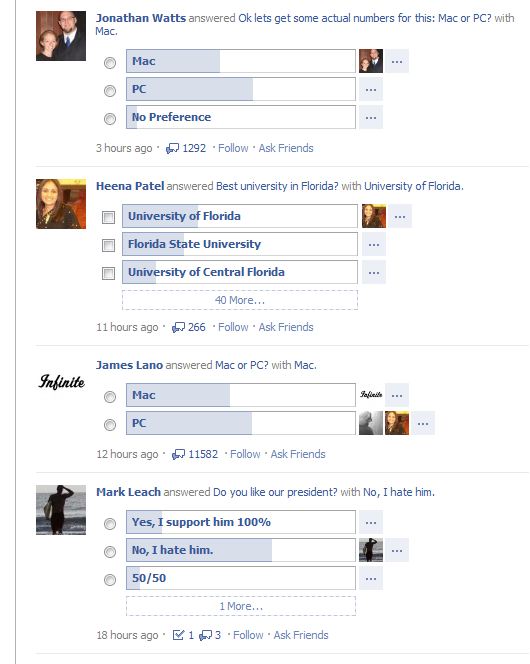 I can browse through all the questions my friends have been asking, see the results, and quickly answer any questions which interest me.
To test how the new Questions tool works, we posted a question to the
Alternate Image facebook page
, which you can see below: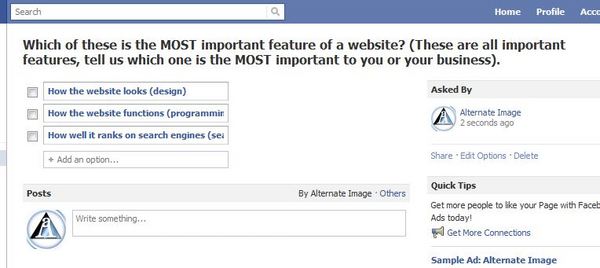 It took all of about five minutes to post and we instantly began receiving feedback from our fans, which are mostly our clients and affiliates. Not bad for a five minute investment.
So how can you use this tool as a resource for your business?
Consider it an impromptu way of conducting market research - without the costs, considerably less time, and a way to reach out to everyone in your social bubble. You can quickly see the opinion of your Facebook fanbase, interact with your fans, and most importantly, learn from them. In order to make Facebook questions work for your business, it's important that you ask the right questions. Questions should be easy to understand, engage users enough to where they would want to respond, and provide valuable feedback that your business can use.
Here are some examples of great questions you can use for your business:
Hoteliers
What is your favorite time of year to visit Florida (or insert your location here)?

What do you look forward to the most when staying at a hotel?

Which is the most important to you when booking a hotel: price, location, or hotel amenities?

What is your favorite annual event in Daytona Beach (or insert your hotel location here)?
Hoteliers should use Facebook questions to gauge the reasons why guests would book at their hotel. Knowing which features people are looking for will help you determine which items to highlight in your marketing material. For example, if the general consensus is that people look for hotel amenities over price, you may want to feature your best hotel amenities more prominently in your hotel description and website.
Realtors
What is the most important thing you look for when choosing your Realtor?

Home buyers: How do you search for homes for sale in your area? (Search engines, my Realtor's website, classified ads, driving around, I use my Realtor's recommendations)

When working with a Realtor, what is your preferred method of contact? (Text, phone call, email)

The last time you used a Realtor, how would you rate your overall experience?
Non-Profits
What is your preferred method of donating to non-profit organizations? (Online payment, check by mail, cash donation, payment over the phone, text to donate)

Which issues are most important to you? (List action items that your non-profit is involved in)

What motivates you to donate to a non-profit? (TV ads, Facebook posts, print ads, direct mail, or direct contact with a representative).
E-Commerce
What is the hottest product this season? (List some of your most popular products)

Is free shipping better than a percentage off discount when purchasing?

Which items would you buy as holiday gifts? (List your popular seasonal items, this is a question for the holiday shopping season)

Which do you like to see more of, the product description details or photos?

When shopping online, do you prefer to view store items by newest products, category or price?
The goal is to find answers to questions that will help your business. Listen to what people are saying and react accordingly. Is something you didn't realize more important to customers than just price? Are you overlooking some valuable features that should be more prominent in your advertising? Using Facebook questions is easy, using it to help your business grow takes time and effort, in which you have to analyze the data and make strategic decisions based upon what you find.
Limitations to Using Facebook Questions for Marketing Research
For those looking to catch some attention from Google, Facebook questions is not indexed by search engines at this time. Your questions and responses will not show up in search engine results. But, if you are doing this for market research you won't necessarily want these things to show up in SE results anyways.

Keep in mind, the golden rule for conducting solid market research is to use a data collected from a completely random sample of the population. Since Facebook is not used by every single person in our population, this prevents you from receiving a "pure" sample of the population. Although friends of friends can see what questions are posted and anyone can answer, you will realistically see responses from your fans. This tends to make the results a bit one-sided, depending on the number of fans you have and their relation to your company.
It may also skew your data by leaving out the opinions of people who do not use Facebook, which can generally be the Silent generation (1925-1945) and some of the Baby Boomers (1946-1964). If your company is a nursing home or provides services to senior citizens, you may not get the responses you need. Also, people may answer questions differently knowing that their answer will be displayed for all to read in their news feed. Depending on your question, some responses may not be exactly what they would be if the survey answers were to remain anonymous. As long as you keep these things in mind, using the Facebook questions tool can be very beneficial for brands, businesses, and other types of fan pages.

We hope you find this useful and can make Facebook Questions tool a valuable resource for your business! If you post a question be sure to let us know on our
Facebook wall
and we will be sure to answer it and see how it works for you. Our next post will feature how our clients were able to use Facebook questions and real scenarios and case studies in which this worked for them, how they used it, and how to tie this into your website.