What!? More changes to the Google Places listings page?
On October 27th, Google introduced the Place Search, "a new kind of local search result that organizes the world's information around places. We've clustered search results around specific locations so you can easily make comparisons and decide where to go".
Just when you think you have Google figured out they go ahead and change everything on us. Okay, as SEO professionals we are used to this. They introduced Caffeine earlier this year. Then there came Google Instant. Now they are changing the placement of their Google Places (formerly called Google Maps) listings and the overall search results design.
What does this new design look like?
We Googled "Daytona Beach Hotels" to show you what the new layout looks like.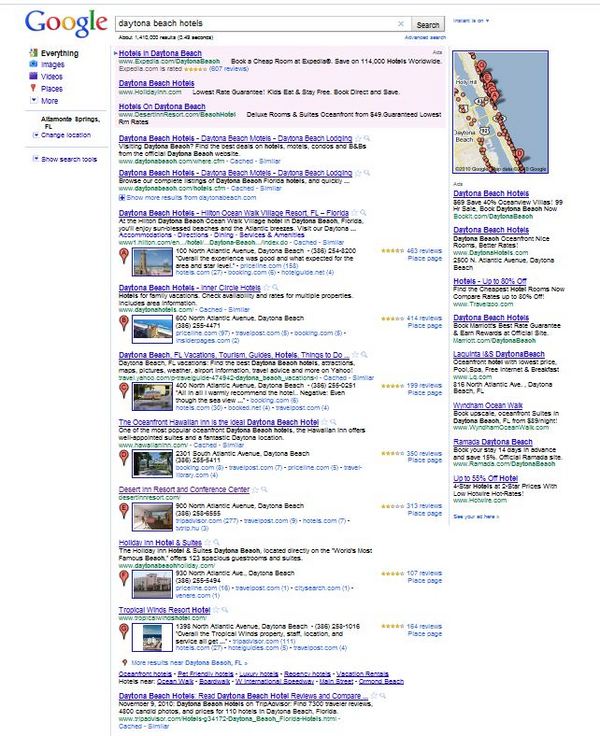 As you can see, there is now more emphasis being placed on the Google Places results, whereas the organic listings are pushed even further to the bottom. There are three sponsored listings at the top, as there always have been, and then two organic listings underneath, followed by an expanded version of the Google Places listings. There is a map on the left featuring the Google places result markers, and additional sponsored listings underneath.
What does this new change to Google Places mean to your business?
If you are ranking well on a location based search term you may have just been bumped to page two. Google Places listings are taking more of that valuable "first page real estate" and you need to make sure your Google Places listing is listed on the home page. The algorithm that determines the Places listings is not the same as the natural website ranking results, so traditional SEO methods may not apply. Google gives more value to listings with a high number of good reviews, traffic, and other details, but not necessarily the same websites that are also ranking number one. It is very difficult to push out a top Google Places listing but if you can be on that first page then you will see a good amount of traffic to your website. Read our previous blog post on
"How to Rank Higher on Google Maps".
Of course, it will take more time, more content, and more optimizing to get back on the first page if your website has just been pushed back to the second page due to this new design. Google is adapting to how consumers are searching and are always changing to make the user experience better. We understand that, even if it means more work for us in the long run. The important part is to be aware of these changes and adapt your website's search engine strategy to stay on top.