Alternate Image offers a variety of website applications in addition to our standard application suite that can be purchased a la carte and added to your website for a one time setup fee. This month we are featuring the News Application, which can be added to your website for only $99.
News Application Features
Publish a news story using the admin area content management system (works with all browsers)

Headlines and teasers can appear on a designated area (home page) on the site, users click to read full story

News stories can be set to expire or can display forever

Site visitors can sign-up to leave comments on news stories

Meta-tags can be added to news stories for SEO purposes

Can add byline if republishing work from a specific author

Add categories which can be used to sort stories onto specific website pages

News headlines can be displayed in a variety of ways to match your website design

Allows for RSS feed
Benefits
Employees can easily add new stories, which will keep the site fresh with new content

Site visitors like to see new content, keeps visitors on your site longer

Do not have to worry about outdated stories, they are automatically removed upon expiration date

News stories are search engine friendly and add content to your site (Google Juice!)

Grow your email newsletter list as each visitor that leaves comments is added to the database

Use categories to display specific stories on different areas of website (this application scales to work with large websites needing multiple types of news headlines displaying throughout the site)
Examples of How the News Application is Used
Hotels can inform guests of upcoming area events and company news

Realtors can write about upcoming open house events and local real estate news

Websites can offer visitors the latest breaking news about their industry or business, press releases, etc
Your News Application can be displayed in a variety of different styles to match your website design.
(Note: depending on your website layout, additional graphics work may be needed to display your news headlines or add a news menu navigation bar).
GoldenBear.net's home page news headlines. The full news page displays at
Goldenbear.net/news.cfm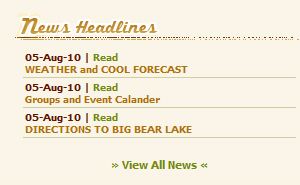 Coral Beach Resort's home page news headlines. Full news page can be seen at
CoralBeachMotel.com/news.cfm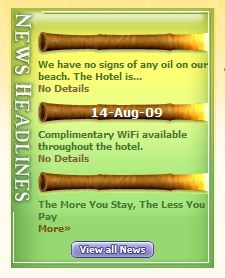 Alternate Image's news headlines display like this: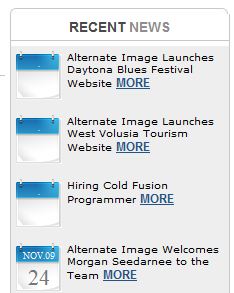 News headlines for Fahu.org on their homepage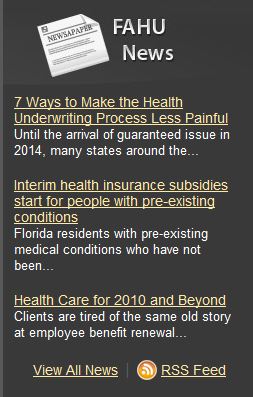 Interested in adding the news application to your website? Email
Mic@alternateimage.com
or call her directly at 386-760-1774 ext. 3000.