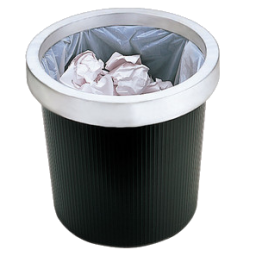 The amount of spam we receive has been increasing each year as Spammers have become more and more creative with ways to sneak emails past your junk filters to try and get you to click on a link, download an attachment, or even worse, a virus.

NOTE: Zimbra scans emails and their attachments for viruses, so none of our users should really be in serious risk of getting a virus in their email.



Spam stands for

Non-Solicited Pornography And Marketing

and is essentially an unsolicited email that is sent in bulk to numerous recipients via email. Spam averages about 78% of all email that is sent, and of that about 81% is "pharmacy ads" (we've all seen the Viagra-type emails).


According to the CAN-SPAM Act of 2003, commercial bulk emails must adhere to certain specifications to be "legal". Although it is extremely difficult to regulate, many major email account providers, like Gmail, Aol, Comcast (Roadrunner), Yahoo and Hotmail, will block emails from ISP addresses that have a high rate of being marked as Spam by the recipient. This is why it is important to mark these emails as junk or spam so that it will prevent spammers from successfully sending emails again.
Tips for Recognizing Spam
The overall goal of a spam email is to get you to click on a link or an attachment. DO NOT DO THIS! instead, mark this type of mail as junk. The only way to prevent spam from this sender is to mark it as junk or spam. Deleting the email will do nothing.



Recent types of spam have included messages that appear to be from your webmaster telling you that your new account has been created, with a document for you to download. (See below). The best way to tell if this is a real or fake email is to look at the sender's email address, not their name. Emails from Alternate Image will always be from either Mic, Val, or Morgan@alternateimage.com. You can see below that the reply to email address is windshield@roustabouts.com, and not Bikeweek.com Team, which is what the sender has put in as their name. This is misleading as most email inboxes show the display name, and not the address.
Careful inspection will show the true source of the email.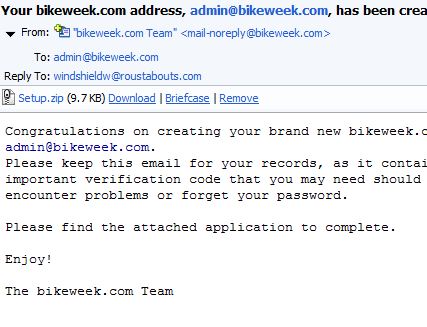 Another popular type of spam is an email telling you you've received an e-card greeting, that you've made an Amazon order, that you have a UPS package, etc. These will try and get you to download a virus or other malicious file. You can see in the email below that the link is for an executable file.
DO NOT EVER CLICK TO OPEN AN .EXE FILE.
* If you hover your mouse over a link, the website address will appear in the bottom of your browser (if you have this setting turned on). This will reveal the true source of the link, you can tell immediately if this is a legit website link or a link to some random spam site.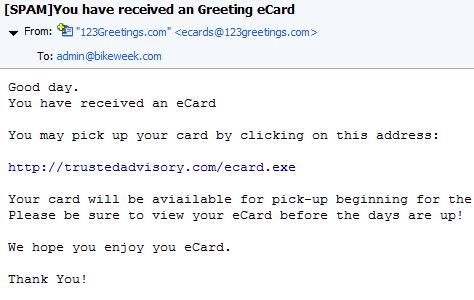 Commonly asked questions about spam:
Where did they get my email address?
The more visible your website is, the more visible it is to Spammers. Robots crawl websites looking for contact emails. Emails can be harvested from chatrooms, customer lists, newsgroups and viruses. It is important to mention in your company privacy policy that you do not sell email addresses that you collect and to explain exactly what customer emails are used for. It is also important that you unsubscribe from unwanted commercial emails versus marking those as Spam. In some cases, once you register for something your email can be sold to other companies, which increases your amount of unsolicited emails. These may not necessarily be harmful spam emails, but are still very annoying. A true spam email will not have a way for you to unsubscribe, and will need to be marked as junk.
How can I stop them?
Mark all spam emails as junk in your inbox. This will help your email account system learn which emails are spam and will block other related emails from getting to your inbox. You can also setup an email filter to block specific words or senders.
Learn more about setting up email filters in Zimbra.


Unfortunately there are no other ways to stop spam. These people learn the behaviors of spam filters and then adjust their email messages accordingly. The best way to bock the sender is to mark the email message as junk or spam and your email program will learn to block emails from this sender or related senders and messages.



What are the requirements for sending bulk mail?




The CAN-SPAM act of 2003 allows certain types of emails to be sent without needing permission (opt-ins) from the recipients as long as the email meets these three requirements:





1. Unsubscribe compliance - must have a visible and operable unsubscribe mechanism present in all emails. Consumer opt-out requests are honored within 10 days. Opt out lists must only be used for compliance purposes.




2. Content compliance - must have an accurate from line, relevant subject lines, a legitimate physical address of the publisher, and a label if adult content is present.




3. Sending Behavior Compliance - messages cannot be sent through an open relay, cannot use a false header and cannot be sent to harvested email addresses.




* Alternate Image's mailer application is compliant with the CAN-SPAM Act.