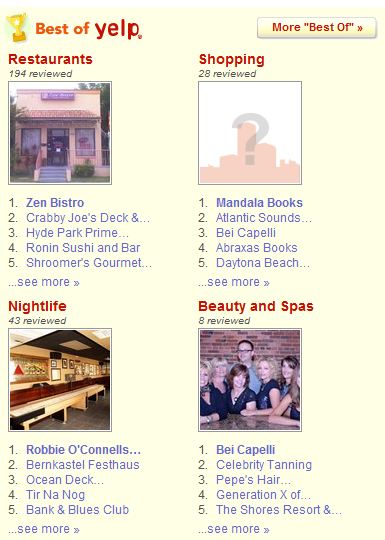 Over one million people are using Yelp each month just to find hotels. More than 32 million consumers are using Yelp each month to write reviews and search for businesses making it the #1 travel application for the iPhone.
Is your business on Yelp? If not, it's important to claim your business and start reaching out to new customers and reviewers.
This is one social media application you don't want to ignore.
What is Yelp?
Yelp is an online application that allows people to write reviews of businesses and find them in the "Yelp pages" business directory. You can see all of the reviews on your favorite local businesses and find their contact info, see photos of the business, and go directly to their website.
The Welcome page showcases the best of Yelp restaurants, shopping, nightlife and beauty/spas. Looking at the best of Daytona I can see that five of these businesses are within walking distance of our office! Lucky us to be surrounded by such well reviewed and liked places.
One thing to keep in mind about Yelp is that they use a sophisticated filter to remove "fake" reviews by business owners themselves. They want real reviews by real people. Don't try to mess with the system by adding a ton of fake reviews - this will only hurt your page as Yelp does not take kindly to phony reviews.
Watch this video on how to use Yelp for your business.

Getting on Yelp
1. First, start by finding your business to see if you are already listed on Yelp.
https://biz.yelp.com/signup/
2. If your business is already listed on Yelp click on the listing to view the details.
3. Click "Is this your business?"
4. Go to step one to begin unlocking your page
5. Fill out the form with your name, email and password.
6. This will then begin the phone authentication process, make sure that you are near the business phone you have listed and can answer it.
7. Your business phone will be called asking for the code that appears on your screen. Enter it into the telephone.
8. Your business account will now be unlocked and you can access the Yelp tools on your account page.
Marketing Your Business Through Yelp
1. Make sure all your business info is correct
; hours of operation, address, pictures, etc.). It is important that you list as much info as possible for the user and that all the info is accurate.
2. Add photos of your business, especially for hotels
. Most people may not even bother visiting your website, they will have everything they need within Yelp to compare nearby hotels. Be sure that you show them the best up to date pictures of your hotel's property.
3. Respond to all reviews, both negative and positive
. One of the downsides to using an application like this is it's potential to hurt your company's image with bad reviews. It is important that you use any negative reviews as feedback for how you can improve your business. You cannot remove a negative review and the best way to deal with it is to address it. You can post a public reply in which you should address the issue, apologize for any problems, and offer the customer a second chance to try out your company or hotel.
See the Yelp tips for replying to customer reviews.

4. Add a Yelp user special or discount
. If a user is "shopping" for hotels, why not give them an added incentive with a coupon or discount? Restaurants will see great success with coupons, users will have all the more reason to visit your business and use their coupon. Be sure to have a way for users to redeem the coupon, which is most easily done by directing them to a landing page where they can print the coupon or special offer, or see a promo code for the discount.
Adding a Yelp Button to Your Website
You can add a Yelp badge to your site so that users can easily review your hotel or business from your own website. Simply copy the embed code and send a support ticket telling us where you would like your Yelp badge. A good place is the footer or sidebar areas.
Go here to get the embed code
to display a large or small review badge that will pull your latest reviews.
Keep in mind that this will display ALL reviews of your business, good and bad.

You can also add an image and link it directly to your Yelp badge within the content management system.
Go here to download various types of Yelp buttons.
Upload your Yelp button to the content management media gallery and insert it into the web page. If you are using the new CMS, you will want to select "Link Image" and insert your Yelp profile page website address here. In the old CMS you will need to insert the image, then highlight it so that it turns grey, and the insert a hyperlink with the Yelp profile address.
Now that you are on Yelp be sure to keep your business page updated often and to respond to reviews. Social media is what you make it. Good luck!
Find Alternate Image on Yelp