Alternate Image is proud to announce the recent re-branding of their online booking engine application for hotels, called Open Hotel.
Open Hotel booking engine
is now offered as a stand alone product for hoteliers who already have their own website and webmaster but would like to take advantage of the great features and affordable pricing plans for the booking engine.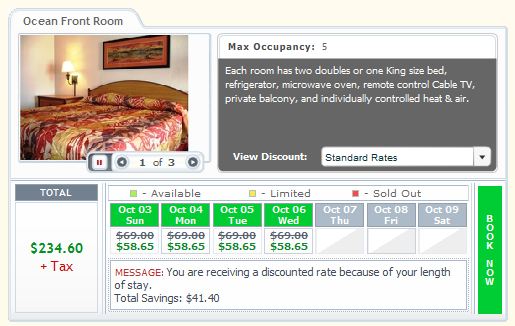 Until recently, Open Hotel was an application offered to existing website clients as part of the total website application suite, with the Guestbook, Photo Gallery, Content Management and Page-On-The-Fly-Generator application. There were a few hotels with 3rd party websites that had the booking engine on a customized website page that clicked off from their main website, but this was not something we marketing or tried to pursue.
Now, Open Hotel is offered as a stand alone product to hoteliers with existing websites for a flat monthly fee. Hoteliers can sign up at our new website, OpenHotel.com, for a free 15-day trial to demo the booking engine. Upon sign-up, their website click-off page is automatically created and hotels can begin putting in rates immediately. A snippet of code is in the admin area so that hoteliers can have their webmasters paste the code on their website to replace their existing reservation box.

The whole process is very simple and a hotelier can sign-up, setup their booking engine, and have real reservations booked from their site in less than an hour.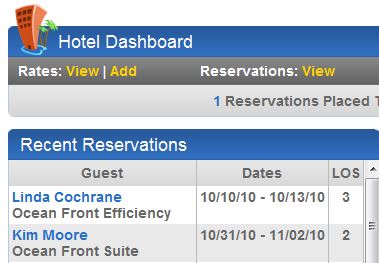 The decision to offer Open Hotel as a stand alone product came after we had many requests from hotels with existing websites to use our application. There are a few main companies that offer online booking engines and almost all of them require per reservation fees that have no caps. Some hoteliers we spoke with were paying anywhere between $500 and $1200 a month during their high seasons - just for the booking engine! And to top it off, these hoteliers were frustrated with the level of customer support they received. It was almost impossible to speak with a live person if they needed help. Other feedback we heard was that the other main booking engines were not smart phone compatible, did not send reservation notifications via fax, had extremely high rates for GDS and website reservations, and did not have the ability to offer discounts.

It did not take us long to realize that Open Hotel would be a lifesaver for many of these hotels, especially those suffering from the poor economy or Gulf Coast oil spill. We found even the larger hotels were especially anxious to leave their booking engine providers due to their high monthly fees, which were based on a percentage of their reservations and had no cap. If a large hotel had a great month they could expect to pay hundreds if not thousands in fees to their booking engine provider. Not to mention they were locked into strict contracts with ridiculous termination fees and contract terms that would change without notice and allowed for 5% increases in GDS fees each year.
And with that we are proud to announce a new kind of booking engine, Open Hotel by Alternate Image. No contracts, no per reservation fees, and one flat monthly fee based on the number of rooms in the property. With that you get great customer service and honest service terms that are reasonable and do not take advantage of hoteliers.
Future plans for Open Hotel include interfacing with
Easy Yield
and
Channel Rush
(in progress now), upgrades to current features for offering groups and packages, and interfacing with the leading Property Management Systems.
Do you use Open Hotel for your hotel's website? Let us know what you think by writing us a testimonial, email
morgan@alternateimage.com
a few sentences about why you use Open Hotel!