If you login to your website you will see some new changes. There is a new dashboard that will display any important notices regarding your website applications. Overall you will not see any changes in functionality, just a new name. The former "Website Tab" is now "Dashboard" and the admin home page has been changed. Under announcements you will see any important messages from Alternate Image and links for support options.
Notices you may see (depending on which applications your website has) are:
Guestbook
- This will show any comments that are waiting for your approval. Comments are not displayed until approved by changing the status from New to Posted.

Blog Comments
- This will show any recent blog posts and recent blog post comments (depending on your blog settings, these may be automatically posted to your website already)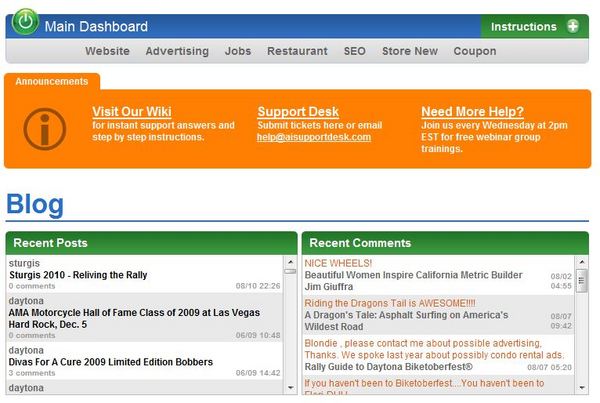 Hotel Booking Engine Alerts - If you have not entered in any policies, rates, or rooms into your booking engine this will be noted on your dashboard. This only applies to new Open Hotel clients. Existing clients have more than likely already completed these steps and will not see these alerts.